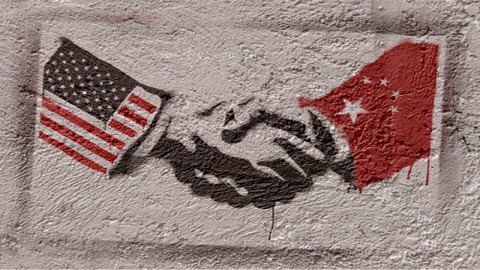 This past week was filled with so much good news. The biggest of which was the signing of Phase One of the U.S. and China trade pact.

This trade deal is a very positive development for the U.S., China, and the world, and paves the way for future business investment and other trade deals around the globe. This also removed what was a big uncertainty for many months.

The economic data was already amazing with the following reports coming in better than expectations:
Small Businesses reported robust quarterly earnings.
Retail Sales were strong signaling that the consumer continues to spend and drive the U.S. economic expansion.
Philadelphia Fed Manufacturing Index surged this month.
Initial Jobless Claims declined and remain at 50-year lows.
And speaking of better than expectations, we also watched the start of corporate earnings season and most of the big banks handily beat expectations.

All of this good news has pushed Stocks to all-time highs, but at the same time Mortgage Bonds and home loan rates remained right at the best levels in three years... remarkable.
With the U.S.-China Phase One trade pact having been signed this past week, the financial markets will get back to what will drive the trading activity in the days and weeks ahead, earnings season.

A slew of earnings reports will be released this week which will directly impact Stocks, Bonds, and home loan rates. If the numbers continue to stream in positive, it could push Bond prices lower, and rates higher. The opposite is also true.

Economic data will be extremely light with just Existing Home Sales and Weekly Initial Jobless Claims being released, so the focus will be on the earnings data.
Low mortgage rates boost the economy by cutting home financing costs, which puts more money in the wallets of consumers to put toward the purchases that account for about 70% of America's GDP.
Mortgage rates remain low with the 30-year fixed rate mortgage averaging 3.65% and along with the strong job market, both are fueling the consumer driven economy by boosting purchasing power which will certainly support housing market activity in the coming months.
The 15-year fixed rate mortgage averaged 3.09% this week, slightly higher from last week's rate of 3.07% and this time last year at 3.88%.
The 5-year Treasury-indexed hybrid adjustable-rate mortgage averaged 3.39% this week, slightly higher from last week's rate of 3.3% and at this time last year at 3.87%.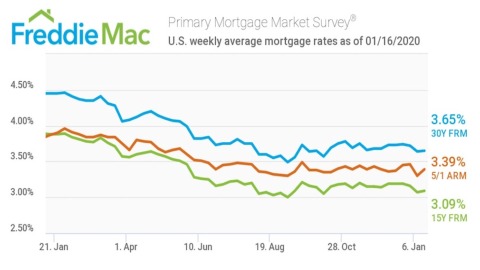 All U.S. financial markets are closed on Monday in observance of Martin Luther King Jr. Day.

Bottom line: the U.S. economy remains quite strong with zero chance of a recession anytime soon, yet at the same time home loan rates have not moved higher, giving many an incredible opportunity to purchase or refinance a home.